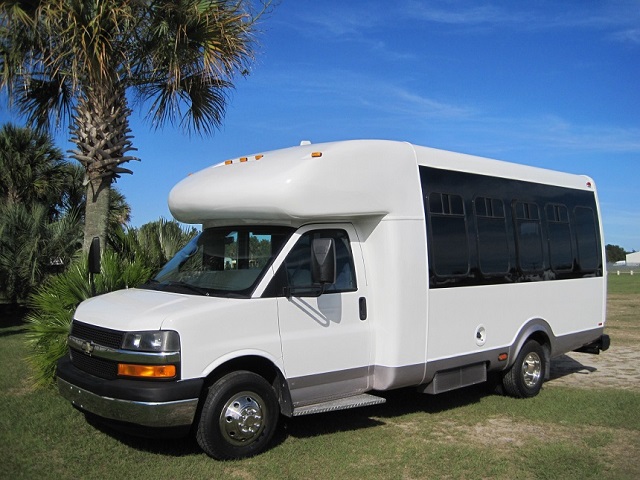 Handicap Buses for Sale, Startrans
The following is one of our current Inventory of Handicap Buses for Sale, Startrans, with four 4 position wheel chair positions.
Notice that the majority of our used bus inventory are refurbished used buses for sale.
Please read our refurbished Used Bus Sales cost page to fully understand what is involved with our bus refurbishment.
Long-lasting durability comes easy for the StarTrans Senator by Supreme. That's because it's one of the few handicap buses for sale that uses a combination of steel cage construction for optimum safety and overall structural strength and a tough fiberglass skin to resist stains, scratches and corrosion. Plus, fiberglass-reinforced panel (FRP) sidewalls eliminate exterior noise and are extremely strong and rugged to withstand difficult road conditions.
$32,365
with warranty!

stock # 63883

2009 Startrans Senator, Chevrolet G3500
15-16 passenger 8 rear+6 flip up+driver+1 tie down+2 tie down under flips
168,000 miles
6.0 V8 Gas 4 speed overdrive automatic transmission
Front and rear dual compressor Air Conditioning and Heat
Wheelchair lift with 3 tie down spots
New exterior paint
Cloth seats
Seatbelts with 4 built in infant restraints
AM, FM radio 4 speakers
Bifold doors
Gross weight 12300#
Hydraulic Brakes 4 wheel ABS disc
Stainless steel wheel covers
Running board with mud flaps
Two sets of restraints
Refurbished with Warranty

return to Handicap Buses for Sale inventory
(previous page)



return to Handicap Buses for Sale inventory
(previous page)



If you have any questions about our Handicap Buses for Sale, Startrans please call 910-272-0177
or contact our Bus Sales department to write.