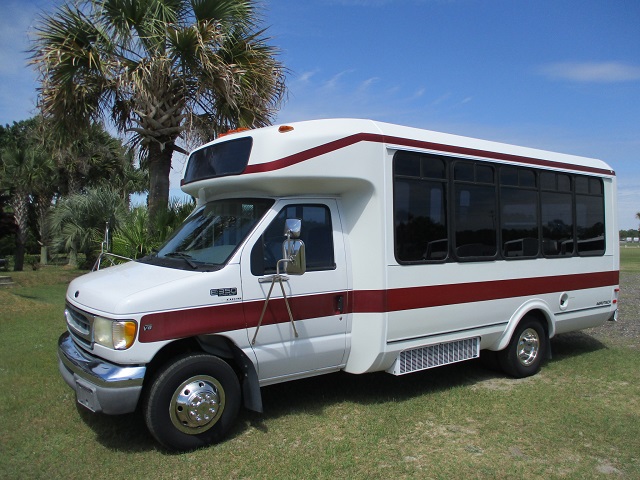 Paratransit Buses for Sales
The following is one of our current Inventory of Paratransit Buses for Sales.
Notice that the majority of our used bus inventory are refurbished used buses for sale.
Please read our refurbished Used Bus Sales cost page to fully understand what is involved with our bus refurbishment. This particular bus was not refurbished due to it's superior condition.
Steel-reinforced composite body has twice the strength-to-weight ratio of an all steel frame structure.
Tinted windows reduce heat, glare and UV rays.
Aerodynamic front cap section accommodates all types of signage with letter height up to 12".
Window forward of entry door gives driver over 2½ square feet of visibility of oncoming traffic or boarding passengers.
Low entry step with standard white step nosing allows easy and safe passenger entry and exit.
"Repel Voltage" seat fabrics clean easily using a mild soap and water solution. Spills can be removed using only a sponge or clean cloth dampened with the soap solution. Rinse and dry thoroughly to prevent soil attraction.
$9000 stock # 60567
2000 Eldorado, Ford E350
15 passenger 12 rear+2tie down or 2 single flips+driverNo CDL required
80,000 miles (very low for a V10)
6.8 Triton V10 gas
Cruise control
Front and rear dual compressor Air Conditioning and Heat
Wheelchair lift with 2 tie down spots
Level 4 vinyl cover seats with seatbelts and AV handles
AM, FM radio 4 speakers
Bi-fold passenger doors
Gross weight 12500#
Mor/ryde suspension
Hydraulic Brakes 4 wheel ABS disc
Stainless steel wheel covers
Popular Available Options
High Impact bumpers
Overhead racks
DVD player with 17 inch monitor
return to Paratransit Buses for Sales inventory
(previous page)



return to Paratransit Buses for Sales inventory
(previous page)



If you have any questions about our Paratransit Buses for Sales please call 910-272-0177
or contact our Bus Sales department to write.