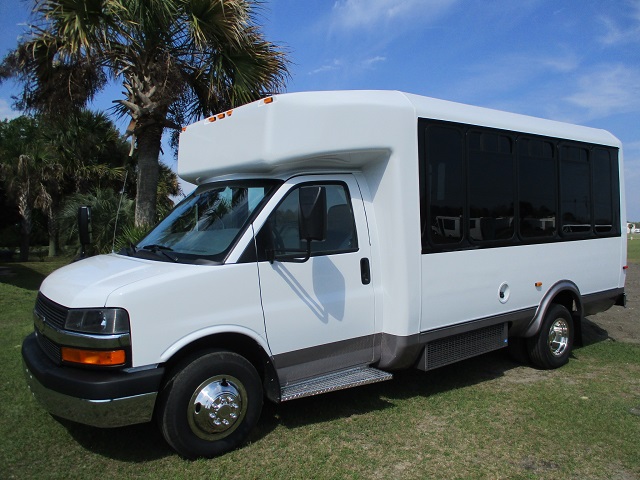 Used Bus Sales, 15 passenger, rear luggage
The following is one of our current Inventory of Used Bus Sales, 15 passenger, rear luggage.
Notice that the majority of our used bus inventory are refurbished used buses for sale.
Please read our refurbished Used Bus Sales cost page to fully understand what is involved with our bus refurbishment.
Eldorado National has a reputation for being a solid well built bus, below is a list of a few of the standard features
Steel-reinforced composite body has twice the strength-to-weight ratio of an all steel frame structure.
Tinted Top-T windows reduce heat, glare and UV rays. Vent panels at the top allow maximum ventilation and discourage passengers from placing hands or arms outside the vehicle.
Aerodynamic front cap section accommodates all types of signage with letter height up to 12".
Window forward of entry door gives driver over 2½ square feet of visibility of oncoming traffic or boarding passengers.
Low entry step with standard white step nosing allows easy and safe passenger entry and exit.
$37,496 On Sale!! stock # 18888 with Warranty
2014 Eldorado Aerotech, Chevrolet G4500
15 passenger, 14 rear+driver No CDL required
100,000 miles

(Very Low for a 6.0)
6.0L gas, 5 speed overdrive automatic transmission
Front and rear dual compressor AC and Heat
Cruise Control
New exterior paint
Rear door with luggage compartment
New Hi-back reclining clothe seats, Arm rests
New AM, FM, CD, DVD, Bluetooth 17" TV 4 speakers
Bifold Doors
Gross weight 14050
Hydraulic Brakes 4 wheel ABS disc
New Stainless steel wheel covers
Running board with mud flaps
Refurbished with warranty

return to Used Bus Sales inventory
(previous page)


Popular Available Options
8" passenger view convex mirror $49
Overhead Storage Racks $1950
Individual Reading Lights $60 pair
Public Address System $350
Back-up camera with 7 inch color monitor $695
Indirect overhead rack lighting $650
Replace 17inch w/22 inch monitor $450
In Dash GPS, Back cam w/ 7 inch color monitor $1140
Hi impact front or rear bumper $915
Remote, heated electric mirrors $650
Hood Vents $250

Great for southern states
Refrigerator $350
Custom Exterior Graphics
return to Used Bus Sales inventory
(previous page)



If you have any questions about our Used Bus Sales, 15 passenger, rear luggage, please call 910-272-0177
or contact our Bus Sales department to write.