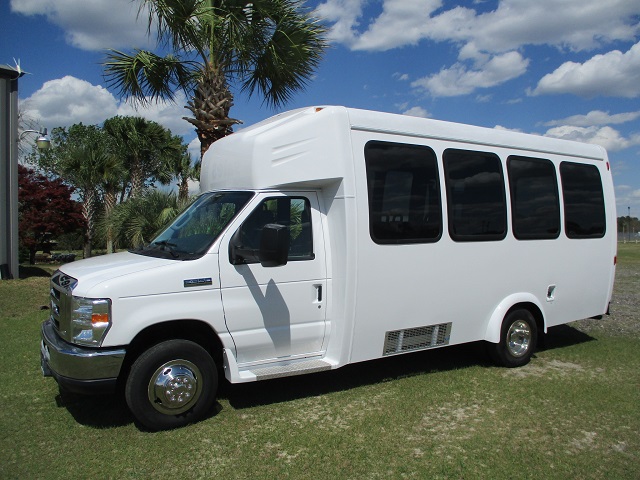 Bus Sales, Handicap, Ameritrans 225 E350


The following is one of our current Inventory of Bus Sales, Handicap, Ameritrans 225 E350.
Ameritrans is a quality built bus that is competitively priced. They are one of the few bus manufacturers that only builds on a full cab, providing more strength and durability to the overall bus as well as a seat area for a co-pilot. Buses with a cut-cab and passenger door installed in cab have a weakened structure and normally develop broken frames around this area within a few years.
The primary AC evaporator for the passengers is mounted in the most efficient location, over the cab, which provides:
75% less refrigerant hose run distance from AC compressor & condenser
Warm to cold air exchange is done where needed the most., near the 3 largest heat producers: engine, windshield and passenger door
The cold air blows toward the back with the natural flow of air, not against it.
Some states have already passed laws against rear AC units due to low clearance.
While many other brands of buses have flat sides, the Ameritrans bus body has contoured sides for better aerodynamics in crosswinds to help keep it from being blown all over the road, which is the number one complaint of most shuttle bus drivers.
We also don't rent our new buses for sale out to the public, so you can rest assured that no one has abused your new bus during it's crucial engine break-in period.

On Sale! $56,500
New!
Stock # 60073
2015 Ameritrans, 225, Ford E350
15 passenger 12seats + 2 wheelchairs +drvNo CDL required
30 miles (not a rental)
5.4L EFI V8 Gas engine,5 speed overdrive auto trans w/aux cooler
Cruise control, Electric windows & locks
High Back Captains Chairs for Driver
40 gallon fuel tank
70,000 BTU Front and rear Air Conditioning w/35,000 BTU rear Heat
Mid-back vinyl seats with AV grab handles , Arm rests, seatbelts
AM, FM, stereo w/clock CD player, 6 speakers
Gross weight 12500, 158" wheelbase, dual rear wheels
Hydraulic 4 wheel Anti-Lock Disc Braking system
Stainless steel wheel covers
Aluminum diamond tread Running boards mud flaps
Fire Extinguisher, First Aid Kit, 3 Reflector triangles
225-Amp Alternator with Extra Heavy Duty Dual Batteries
Fully Automatic Wheelchair lift with 2 tie down spots
2 Q'straint Wheelchair Tie down spots with 2 storage pouches
ADA compliant brake interlock, decals and lights
Ford Chassis warranty: 3-YR/36,000 mile Bumper to Bumper
5-YR/60,000 mile Power train
5YR/60,000 mile Roadside Assist
Ameritrans Body warranty: 3-YR/36,000 mile Limited warranty
return to Bus Sales Handicap inventory
(previous page)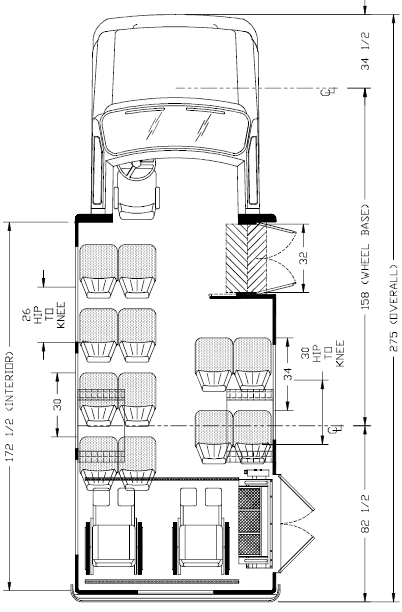 return to Bus Sales Handicap inventory
(previous page)



If you have any questions about our Bus Sales, Handicap, Ameritrans 225 E350 please call 910-272-0177
or contact our Bus Sales department to write.